Q: How do I use the registration code?
A: After you make payment, we will send you a registration code (unlock code). If you have problems while using registration code, please do the following:
1) Please make sure you have downloaded the latest version of software from our site. (The site you are visiting now).
2) Make sure you are trying on the correct software. For example, if you ordered 1st Bulk Email Direct Sender, then the unlock code is only for 1st Bulk Email Direct Sender. It is not for other software on our site.
3) Please use copy and paste to enter the unlock code exactly as you have received it. For example, if you have received:
License Name: Test User
Register Key: Test Code
Then, you should copy Test User as License Name, copy Test Code as Register Key (unlock key). Finally, click [Register] button. It will be registered with your code. Enjoy!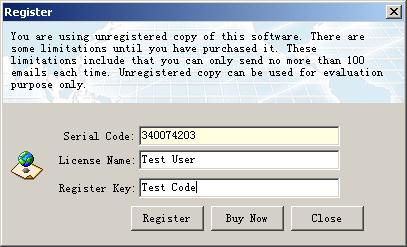 Q: How do I get help and instructions for one individual product?
A:
1) Download product
2) Install product
3) Run product, click menu [help->content]. It contains step-by-step instructions on how to use product.

Q: I got error message "Failed to query MX server of domain.com" when I was sending email.
A: This means you entered an incorrect DNS server address. Click here for details


Q: How do I order your software?
A: Very easy. You can buy online use your credit card very securely. Please visit the Buy Now Page to order. It is 100% secure.


(backup buy now page, this backup link is for customers are invited only)

Q: What happens after I send the order?
A: You will receive the unlock code, instruction immediately after making payment. With that code and instruction you can unlock the software and begin to use the full version.

Q: How much will I pay for the technical support? Is it free?
A: Yes, it's free for all for registered users.

Q: Can I try this software before I buy it?
A: Yes, the unregistered version of our software will allow you to send a limited number of emails. You can download them here.

Q: How many emails can I send per hour with a DSL connection?
A: Speed depends on many factors. With a DSL connection and a 1K message you can send out about 20-30,000 emails per hour. Speed drops dramatically with larger emails.